Prachuap FC's Killer Wasps lose to Buriram United Thunder Castle in rainy away bout
BURIRAM: October 2, 2022: The "Killer Wasps" of PT Prachuap FC are returning home without any points after their 3-1 loss away to Thai league powerhouse, Buriram United.
Contested on a waterlogged pitch in the pouring rain at Buriram's Chang Arena on Sunday night, the match was both side's 7th in the 30-match season.
The home team activated the scoreboard in the 10th minute of play. Penetrating defenses with a swift assault down the right flank, Buriram's Suphanat Mueanta found fellow forward and teammate, Supachai Chaided unmarked in the center of the box.
Converting, Supachai's opening goal triggered victorious war cries by the raincoat wearing home-crowd.
Prachuap's Killerwasps pushed back to find an equalizer five minutes later when Brazilian striker Samuael Rosa Goncalve beat the keeper on the near post, scoring his fifth of the season.
As the tropical rains continued to drench the field and stands, play was slow and sloppy; but the home side were determined, narrowly missing a chance to regain the lead in the 24th minute.
Their efforts would bear fruit when they gained the upper hand once again in the 38th minute.
Assist credited to Suphanat Mueanta, the goal was scored by Serbian midfielder Goran Čaušić, his fifth for the season.
The result was secured in the final minute of extra time with a header by Suphachai Chaided.
Initially challenged by the linesman's offside flag, a subsequent review of the video replay kept the goal on the scoreboard. .
The 3-1 result at half time would go on to stand as the final after neither side found the back of the net in the second half of splish-splash play. See report in Thai detail here.
Buriram remain in second place of the league, one point behind league leaders Chonburi, while Prachuap hold on to their mid-table ranking, still with seven points in as many matches.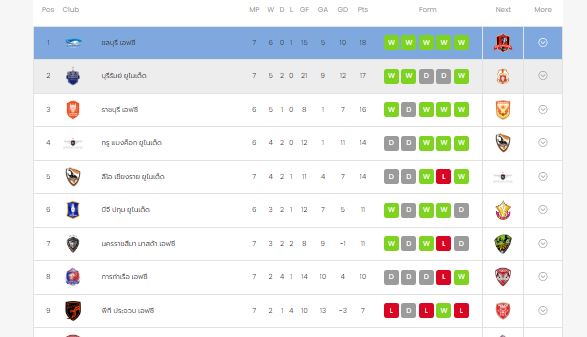 PT Prachuap return home to prepare for their next match on October 8, which will be against 15th placed Police Tero FC. Match details here.