PRACHUAP KHIRI KHAN: PT Prachuap FC were unable to garner any points for their third straight league match, losing 2-4 to Police Tero FC on Saturday night at Sam Ao Stadium.
Coming off the back of two road defeats to Hilux Revo Thai League powerhouses Chonburi and Buriram, the orange-clad home fans were expecting assured victory for their "Killer Wasps" against the lower-ranked, Bangkok-based Police Tero FC.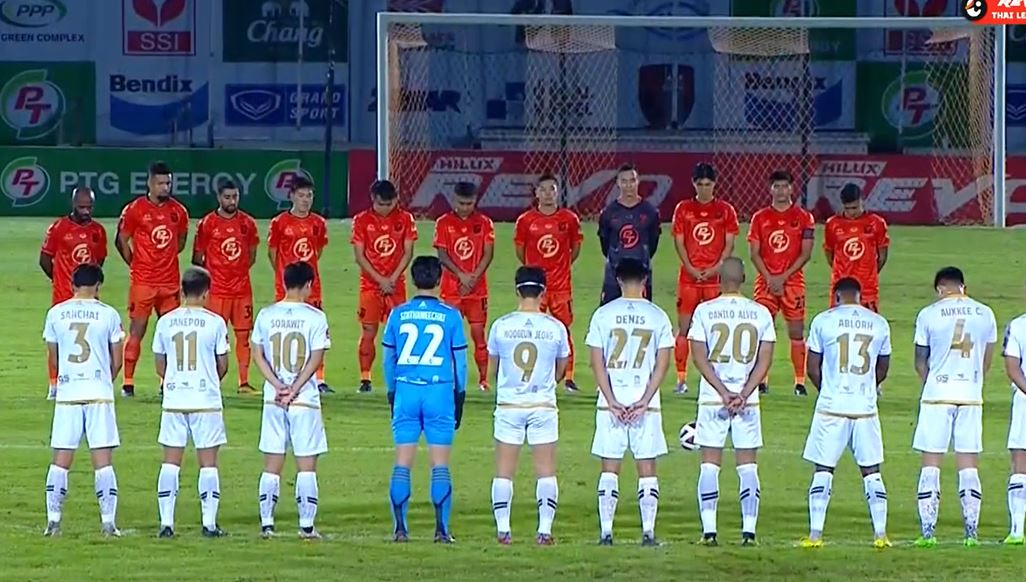 However, the visiting "Silver Shield Dragon" would prove the more-determined side, breaking the ice in the 19th minute: Thai midfielder Ekkachai Samre drove the ball down the right line, before sending a perfectly weighted pass to Korean forward Woogeun Jeong, who headed home the first goal of the match.
Home fans would get their first cheers of triumph 11 minutes later when Brazilian striker Samuel Rosa Goncalves connected with French midfielder Lossemy Karaboué to score the equalizer on the near post, striking from just outside the box.
The crowd's joy was doused 10 minutes later, however, when Police regained the upper hand in the 40th minute. After Prachuap failed to clear the ball, newly-transferred Brazilian striker Danilo Alves found himself in perfect position just outside the box,to skillfully beat the keeper on the far post and score his first goal in as many matches since coming over from Nicaragua. .
Early on in the second half the home side missed a chance to equalize when their own Brazilian start Samuel Rosa Goncalves was awarded a penalty, which missed its mark far wide of the right post.
It was the visitors again to activate the scoreboard to the dismay of the crow in the 77th minute when Thai-Swiss hybrid defender Denis Darbellay capitalized off a corner kick to give his side a two-goal advantage.
The Killer Wasp's fought back and their efforts paid off six swift minutes later through a goal by Thai forward Nattawut Suksum.
And despite many chances for an equalizer leading into 7 minutes of extra time awarded, fate was on the side of the visiting team, who sealed the result and three points with a final 94 minute goal credited to Thai defender Chumpol Bua-Ngam.
Still with only seven points from eight matches PT Prachuap FC remain in 10th place out of 16 teams in the Revo Thai League 2022-2023 season.
See Thai language report here and here. Video highlights of the match here.
Prachuap's next chance to redeem themselves will be in another home game on October 16 against last place Lamphun Warriors. Kickoff is 6pm.