Overview
Prachuap Khiri Khan is the southernmost province of Thailand's central region. It is also considered to be part of the Kingdom's allusive western region, which also includes the provinces of Phetchaburi, Ratchaburi, Kanchanaburi, as well as parts of Suphanburi and Tak provinces. Furthermore, its southern portion can be considered to be an extension of the Southern Thai region, in terms of climate and culture.
It is sometimes described as the narrowest province in Thailand, a reference to the Kingdom's narrowest stretch of land, at a site just south of the provincial seat, where the distance between the Gulf of Thailand coast on the east, to the Myanmar border in the west measures a mere 12 kilometers.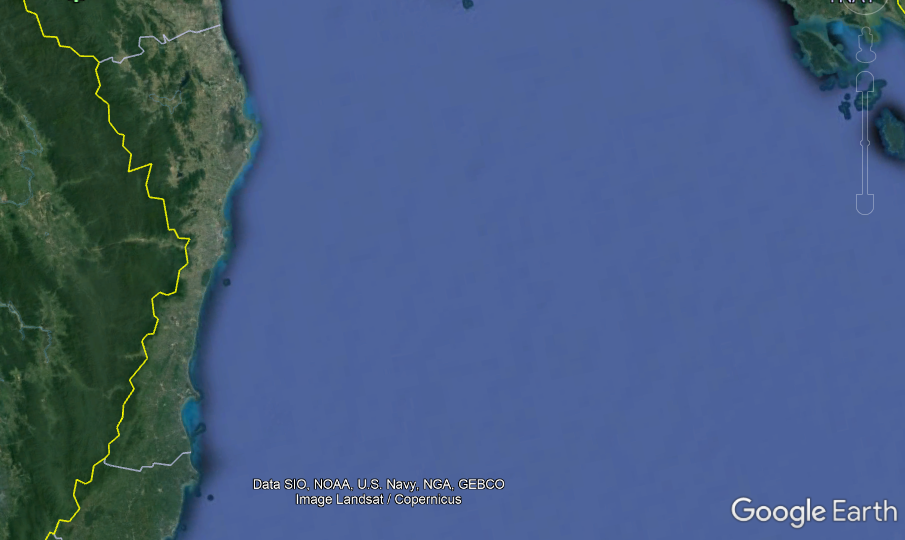 Prachuap Khiri Khan is a
coastal-mountainous province,
which offers the best of all worlds.
From north to south, the province stretches about 212 kilometers by land, and has a coastline of about 224 kilometers; it is 12 kilometers at its narrowest point and just over 70 kilometers at its widest stretch. Its highest elevation is at the summit of Khao Luang Prachuap mountain, which is part of the Tenasserim range and peaks at 1,250 meters above sea level.
Coordinates
Located approximately between the longitudes of -99°08 and 100°02 E, and the latitudes of 10°57 and 12°38 N, Prachuap Khiri Khan spans a total area of 6,367.6 square kilometers (2,458.5 square miles), making it the 32nd largest of 77 Thai provinces (not including Bangkok, which is technically not a province). It borders Phetchaburi province to the north; Chumphon province to the south; the Gulf of Thailand to the east; and Myanmar's Tanintharyi Region to the west.

Provincial Administration
Prachuap Khiri Khan has eight administrative districts. Its provincial center – both geographically and administratively speaking – is Mueang Prachuap Khiri Khan เมืองประจวบคีรีขันธ์, where Prachuap Khiri Khan town (it's really a small city) – the Tri Cove City or "Mueang Saam Ao" เมืองสามอ่าว in Thai – is situated.
Other districts include Hua Hin หัวหิน, where the popular seaside resort city of the same name is located; Pran Buri ปราณบุรี; Sam Roi Yot สามร้อยยอด; Kui Buri กุยบุรี; Thap Sakae ทับสะแก; Bang Saphan บางสะพาน and Bang Saphan Noi บางสะพานน้อย.
The province is administered by the Prachuap Khiri Khan Provincial Administrative Organization or OrBorJor อบจ. จังหวัดประจวบขีรีขันธ์