Hawksbill sea turtle eggs discovered on popular Prachuap Khiri Khan island have better outlook under nursery watch, officials deem
Officers from the (soon to be re-opened) Ao Siam National Park and the Siam Marine Rehabilitation Foundation discovered the turtle eggs in a nest they excavated after following turtle fin tracks in the sand.
The nesting site was on Koh Talu island, which is about eight kilometers off the coast of Prachuap Khiri Khan's Bang Sapan Noi district. 
Officers reported the nest to be 36 centimeters wide and 32 cm deep.
The nest was deemed to be in flood prone area of the beach, and officers determined the hatchlings would have better survival chances in the care of marine nursery rehabilitation.
Though there were 137 eggs in the nest, one egg was reported to be cracked.
Located in the Ao Siam National Park, Koh Thalu spans an area of 1,178 square kilometers and is an active turtle nesting location between the months of May and October.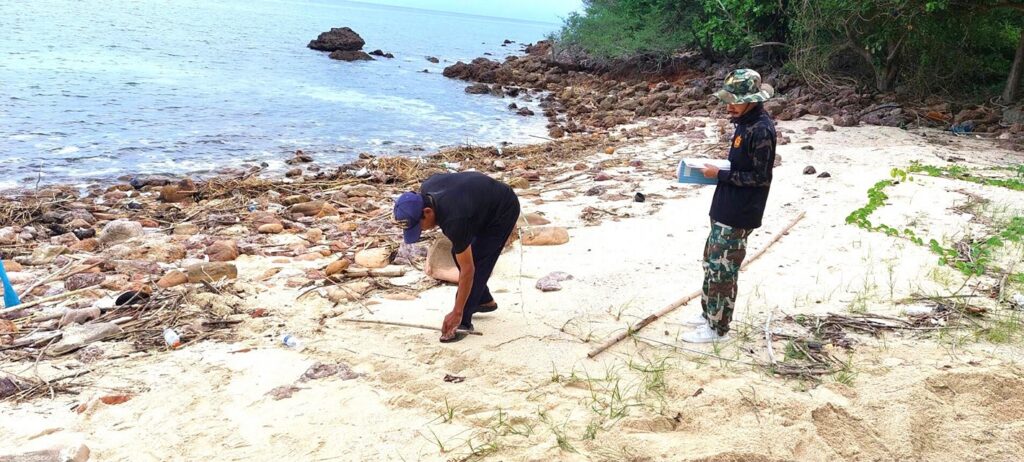 More photos and details of the turtle egg excavation and examination on Ao Siam National Park Facebook post here.
In related marine and coastal news from Prachuap Khiri Khan, false killer whales were recently spotted off Prachuap Khiri Khan's southern coast.