Two dead in Phet Kasem 'ghost riding' motorbike collision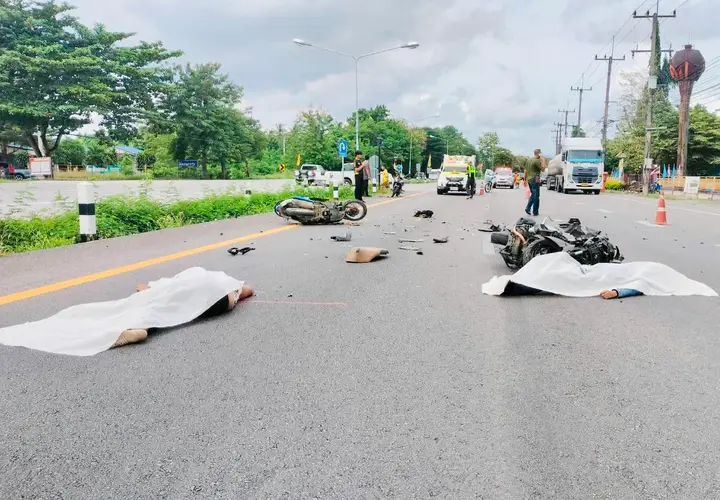 BANG SAPHAN: At 2:30 p.m. on September 25 police were informed of an accident involving two motorbikes with as many fatalities on Phet Kasem Road (highway 4).
Rescue workers responding to the scene in the area of Ban Rat Prasong School in Thong Mongkol sub district, found two wrecked motorbikes and their lifeless riders nearby.
One of the totaled motorbikes, which was in the middle of the left southbound lane was a "big bike" (Yamaha Nmax 155) with a Phuket license plate. Its fallen rider was identified as a 40-year-old teacher at Wat Khok Suai School in Thap Put district of Phang Nga province.
Nearby in the middle of the right southbound lane was the second motorbike, a blue and white Honda Scooby motorbike with Prachuap Khiri Khan license plate. Its fallen rider was identified as a 72-year-old woman resident of Bang Saphan's Thong Mongkol sub district.
The bodies of both victims were taken to the Bang Saphan hospital.(Names of both are in Thai report)
After speaking with local witnesses, police determined that the accident had occurred when the elderly woman on the Honda Scooby, who was reported to have been riding north against southbound traffic, was attempting to make a u-turn near the area of Ban Rat Prasong school.
The rider of the Yamaha bike, who was driving southbound with the flow of traffic was unable to avoid collision.
TriCove Asia notes that such "ghost riding" accidents along Phet Kasem highway and throughout Thailand are frequent; this refers to the habit when motorbike drivers opt on driving against traffic in order to avoid having to make multiple u-turns and/or reduce the distance they need to travel in the other direction.
Phet Kasem Road can be a difficult thoroughfare to cross, for motorbikes, cars and pedestrians alike. The speed limit on the highway is 120 km per hour, and to reach the turning and U-turn lanes you have to cross into the fast lane, avoiding oncoming traffic.