Prachuap pickup wreck leaves infant dead, two adults injured
BANG SAPHAN: September 29, 2022: An infant is deceased and two adults are injured in hospital after the pickup truck they were in spun out of control and crashed at a curve on the highway.
At 1:53pm Bang Saphan highway rescue workers responded to the scene of the accident at kilometer marker 389/900 ofPhet Kasem Road (Highway 4). There they found a totaled silver pickup truck, and provided emergency assistance to three persons – two adults and an infant.
The infant died at the scene, while the two adults, a male and a female, were reported to be injured, and transported to hospital.
Photos shared on Facebook by rescue workers show the Nissan pickup truck, which had smashed into a tree on the side of the road, with damage to its front side, cab and severed bed section. Photos also show rescue workers using equipment to free passengers stuck inside the cab.
Rescue workers speculate that the truck driver lost control at the curve, which indicates high speed may have been a factor. No other vehicles or property were reportedly damaged.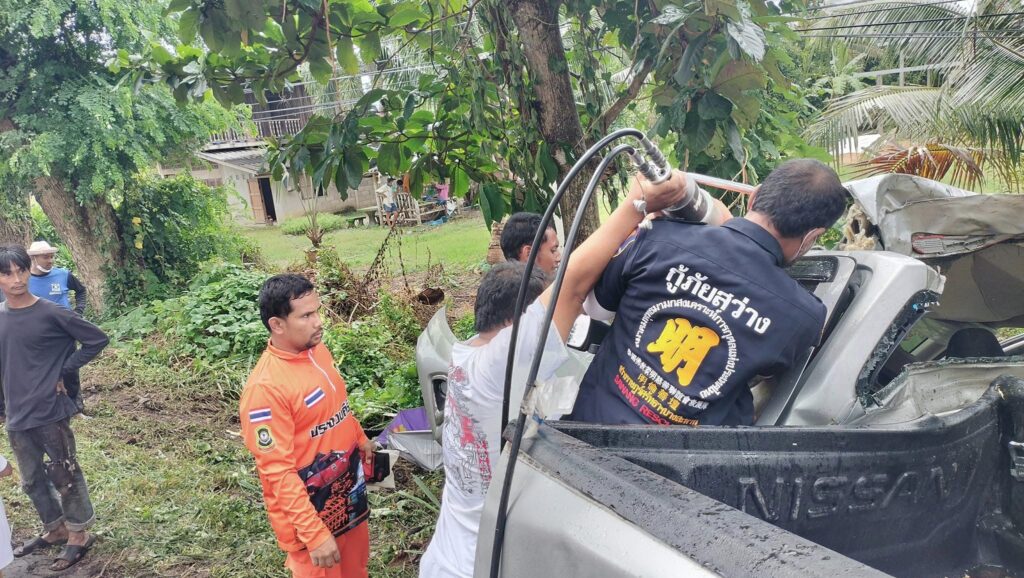 Stricter traffic law to curb fatalities?
As part of efforts to curb the number of fatal vehicular accidents in the kingdom, Thailand recently amended its Land Traffic Act.
In force since September 5, the amended law mandates that children under the age of 6, or shorter than 135cm, be secured in a booster seat or child safety seat, and wear seatbelts when the vehicle is in operation.
The amended law also requires for all front passengers in vehicles to wear seatbelts or face fine.
This amendment initially stirred confusion, reportedly due to the burden it might pose for operators of pickup trucks, which aren't typically equipped with rear-seat passenger seat belts.
The rules for pickup trucks has since been clarified that all passengers in four-door pickup trucks must wear seat belts, though only the front passengers of two-door pickup trucks (with rear cab seats) are required to wear them – though the number of passengers must not exceed the passenger capacity denoted on the vehicle's registration.
Child car seats and booster seats are still considered a luxury item for most Thais, more common amongst affluent Thai families in Bangkok and large provincial centers like Phuket, Chiang Mai, Pattaya, Khon Kaen, and Hua Hin, for example.
They are not typical amongst less-affluent residents in upcountry and smaller towns and provinces, where children are transported mainly on the back of motorbikes, often with inadequate head or body protection.
An exception is "school busses", typically passenger vans, which are all required to have seat belts for every seat, according to the amended law.
It remains to be seen how and if authorities will be able to enforce the new requirement for child and booster seats in these vans and all other vehicles on Thai roads.
In the mean time, TriCove.Asia encourages all drivers – regardless of vehicle type – to slow down!