Prachuap Khiri Khan population 'stable' as Thailand deaths surpass births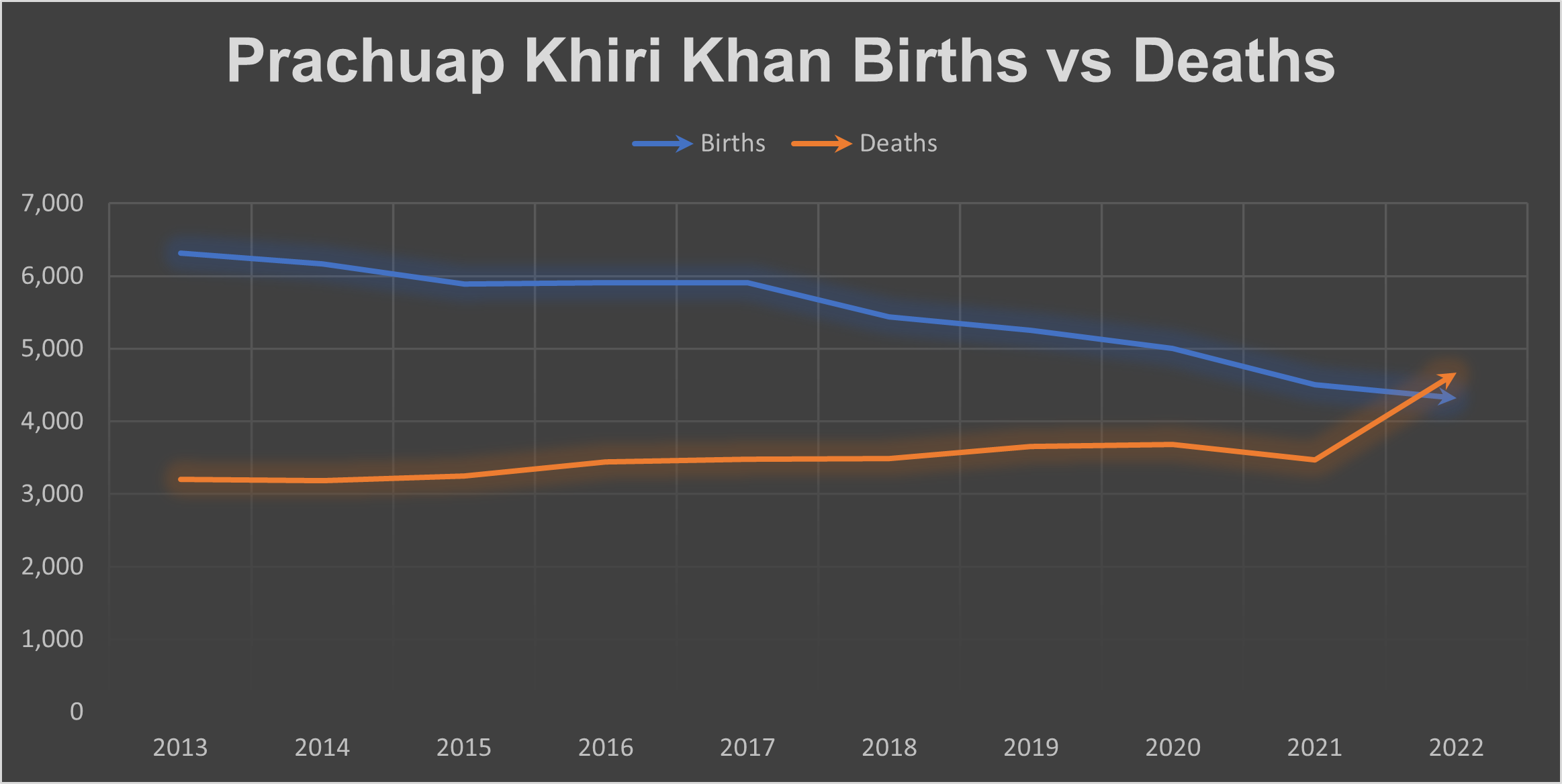 Shrinking Thai population in post-pandemic era offset by influx of non-Thai residents in western Thai province
January 28, 2022: As the Thai population shrank during the past two years, the province of Prachuap Khiri Khan has logged a 'stabilizing' influx of Thai females and non-Thai residents, official figures show.
According to vital statistics published by the National Statistics Office, as of December 2022 Thailand had 66,090,475 residents – 80,964 less than it had at the end of 2021 (66,171,439).
In contrast, Prachuap Khiri Khan's resident population increased slightly during the same period, with 127 more residents on the book at the end of 2022, totaling 553,293 (up from 553,171).
This can be attributed to increases in Thai female residents, as well as (both male and female) non-Thai residents – offsetting a considerable deficit of male residents in the province.
By the end of last year, there were 124 less Thai residents in Prachuap Khiri Khan – 540,522 compared to the end of 2021 (540,646). This was despite the province's Thai female residents increasing by 610, to 274,814 from 274,204 – offset by 734 less Thai male residents, falling to 265,708 from 266,442 at the end 2021.
Offsetting the decline in Thais in Prachuap Khiri Khan, however, was a surplus of 251 non-Thai residents, which reached 12,776 in December 2022 — a new two-decade high, up from 12,525 the previous year.
This includes 210 additional non-Thai male residents and 41 more non-Thai female residents, to 7,817 from 7,607, and 4,959 from 4,918, respectively.
Nationwide, both genders of Thai residents declined, with 74,435 less Thai males (31,755,032 from 31,829,467 in 2021), and 16,867 less Thai females (33,351,449 from 33,368,316).
In contrast the number of Thailand's non-Thai residents grew by about 10,300 to 983,994 residents, including 515,583 males and 468,411 females.
This is compared to the 973,656 non-Thai residents (509,651 males and 464,005 females) reported at the end of 2021.
Deaths > Births
Though some of the aforementioned trends might be attributable to migration factors, or administrative recording errors, an undeniable contributor to Thailand's shrinking resident population is plummeting births being surpassed by surging death tolls.
In 2021, Thailand recorded more deaths than births for the first time in two decades of available data, with the depopulating precedent repeated in 2022.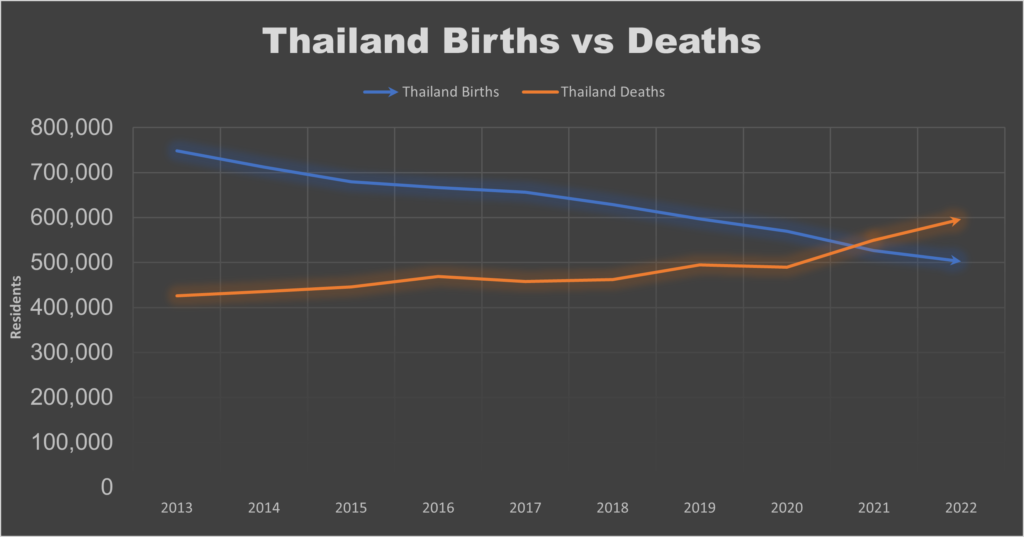 For two consecutive years births in the kingdom have declined by 8% year-on-year, starting in 2021, when there were 42,869 less births (526,469) than in 2020 (569,338).
Births in 2022 dropped by another 24,362 to 502,107 births, which is the lowest in at least two decades of available records, and 30% lower than the 20-year (2002-2021) annual mean of 726,470 births.
Likewise, the number of deaths in Thailand reached a new peak in 2022, with 595,965 deaths reported – 40% higher than the two-decade mean of 424,532 deaths per annum.
This was 8% higher than the number logged in 2021 (550,042 deaths), when deaths jumped by 12% from 2020, and for the first time on record, surpassed the number of births in the kingdom.
In 2021, births in Prachuap Khiri Khan fell by 10% y-o-y, to 4,503 from 5,001 in 2020, and by another 4% y-o-y in 2022 to 4,322.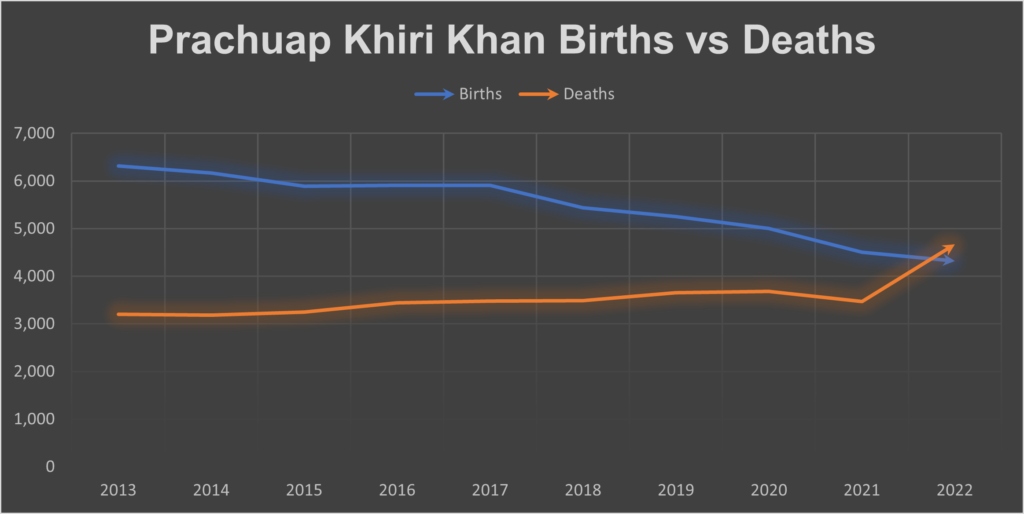 However, 2022 was to be the first year for deaths to surpass births in the western Thai coastal province, with the number of deaths seeing a surge of 35%, from 3,468 deaths in 2021 to 4,677 last year – the highest in two decades of records, and 45% higher than the corresponding annual mean of 3,203 deaths per annum. (See also news about 2022 being the rainiest year on record for Prachuap Khiri Khan.)
Pandemic related?
Some of the excess deaths might be attributed directly and indirectly to the coronavirus pandemic, though there remain certain discrepancies in official data to explain the trend in its entirety.
According to Worldometers.Info, which Google cites as official pandemic statistic data, as of January 28, 2023, Thailand had recorded a total of 33,835 deaths attributable to the coronavirus pandemic, starting since quarter one of 2020.
Though the topic remains highly controversial, coronavirus vaccines could officially be linked to only a marginal number of deaths in recent months. According to an April 2022 report in the Bangkok Post, 3,670 families had been compensated for deaths related to coronavirus vaccination. The English language news outlet reported that the National Health Security Office (NHSO) had confirmed compensating more than 1.71 billion baht for 14,034 people or about 80% of total applications, while rejecting another 2,551 requests for failing to meet NHSO criteria.
In July 2022, it was reported in Thai media that a total of 4,431 cases had been approved of compensation for related deaths, out of a total of 21,139 approved cases that received a total of about THB 2 billion in compensation (including non-fatal cases) up to that point.
Another related factor could be mental health, and specifically a rising suicide rate in the kingdom. As reported in September 2022 by the Bangkok Post here, Thailand's suicide rate increased to 7.38 per 100,000 population in 2021, up from 7.35, which equates to about 4,820 people committing suicide per year.
Nonetheless, the TriCove Asia editorial board would like to emphasize that correlation does not necessarily equal causation, and there may be a number of other contributing factors to explain the current trends.