Prachuap railway 'on track' for 2022 completion, 2023 service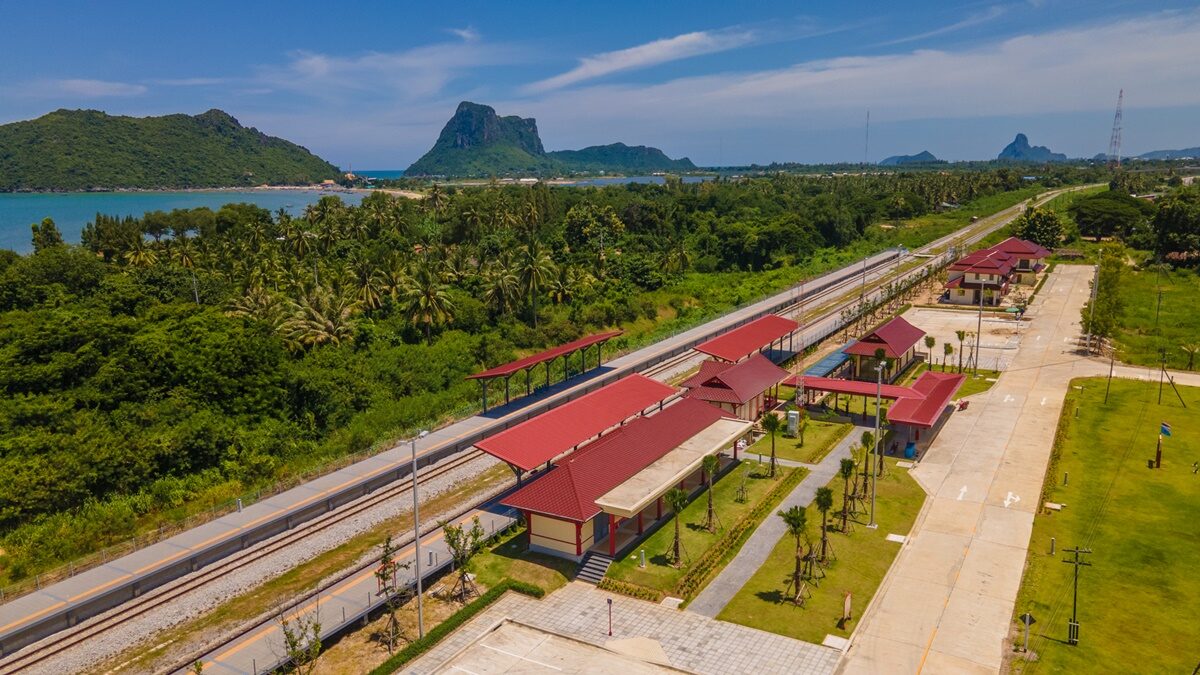 MUEANG DISTRICT: September 20, 2022: Train commute times between Prachuap Khiri Khan and Bangkok could be cut in half by next year, when Prachuap railway dual-track service is expected to be fully operational.
Swifter commute by locomotive will be possible with completion of dual-track construction, which is anticipated by the end of this year.
The projection was announced by government spokesman, Anucha Burapachaisri, as reported by various media including Hua Hin Today, Bangkok Post and Prachachat, who said that the completion of the dual track will reduce the commute time between Bangkok and Hua Hin to 2.5 hours from about five currently.
TriCove.Asia notes that the Bangkok–Hua Hin train commute can currently be completed in just over three hours if using the sprinter diesel locomotive (trains 39, 41) – while the commute between Bangkok Bang Sue station and Prachuap Khiri Khan Railway Station in mueang district, utilizing the current single-track, requires between four to seven hours, depending on train and various other factors.
Considering the track distance between Hua Hin and Prachuap Khirri Khan stations is 84km and Thailand's current fastest trains operate at top speeds of between 80 and 100kph, non-stop service between the two stations could be completed in less than an hour.
Confirming dual-track construction is on schedule for completion within 2022, Anucha told the press that construction of dual tracks throughout the kingdom includes seven main routes spanning 985km. Two of the routes have already been completed and are in operation.
These include service for the 106-km route connecting Chachoengsao Junction with Khlong Sib Kao Junction a Kaeng Khoi Junction in central Thailand, which commenced in 2019; as well as service for the 187-km route connecting Chira Road junction in Nakhon Ratchasima with Khon Kaen in Thailand's northeast region, which has been operational since 2020.
The remaining five routes include:
Lopburi – Pak Nam Po (Nakhon Sawan) in central and upper central Thailand: 145 kms
Mab Kabao station (Saraburi) – Chira Road junction: 135 kms 
Nakhon Pathom – Hua Hin (Prachuap Khiri Khan province): 169km
Hua Hin – Prachuap Khiri Khan: 84km
Prachuap Khiri Khan – Chumphon: 167km
And though construction of dual tracks between Nakhon Pathom and Prachuap is scheduled to be complete by the end of 2022, the government announced that the swifter dual-track service between Khao Tao (just south of Hua Hin) to Prachuap Khiri Khan would be operational by the end of 2023.
The billion-dollar railway
Aside from confirming completion of construction, carried out by various private contractors, the installation of the signaling system to integrate the various sections is also needed before services can commence.
According to figures from the State Railway of Thailand, as reported by Thai Post, the 421 kilometer section of dual-track between Nakhon Pathom and Chumphon via Prachuap Khiri Khan has been allocated a budget of THB 40.19 billion (US$ 1.074bn) and was 93.2% complete as of July 11, 2022.
It involves six main contracts as follows:
Nakhon Pathom – Nong Pla Lai (Phetchaburi province): this 93-km section, was contracted to A.S. ASSOCIATED ENGINEERING (1964) CO., LTD for THB 8.198 billion. Initially to be completed by January 31, 2021, the contract was extended, now due to finish September 30, 2022.
Nong Pla Lai – Hua Hin: this 76-km section was contracted to Sino-Thai Engineering & Construction Public Company Limited for THB 7.52 billion. Initially to be completed June 14, 2022, it will also finish September 30, 2022.
Hua Hin – Prachuap Khiri Khan: this 84-km section was contracted to Italian-Thai Development PLC for THB 5.8 billion. The contract has concluded.
Prachuap Khiri Khan – Bang Saphan Noi: this 88-km section was contracted to KSOC JOINT VENTURE COMPANY LIMITED for THB 6.465 billion. Initially scheduled to conclude by October 2020, an extension was granted with completion scheduled by the end of July 2022.
Bang Saphan Noi – Chumphon: This 79-km section was contracted to STTP JOINT VENTURE for THB 5.99 billion. Scheduled for conclusion by January 2021, an extension was granted for this to conclude by July 2022.
To integrate all the routes, a contract for sourcing and installing the signaling system for THB 6.21 billion was granted to the Consortium CRSC Resarch and Design Institute Group Co.,Ltd. and CRSC International Company Limited. The system is expected to be operational by 2023.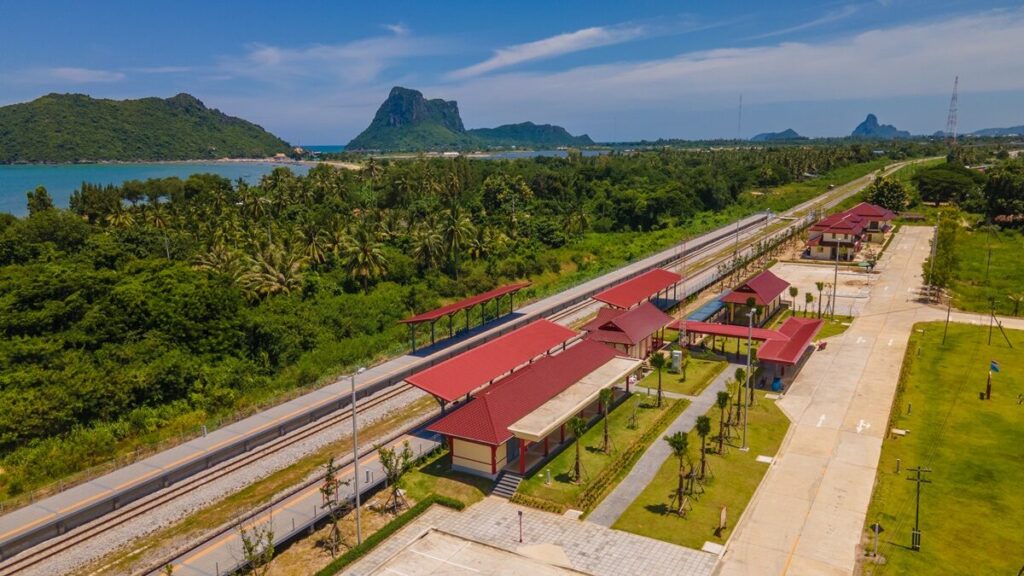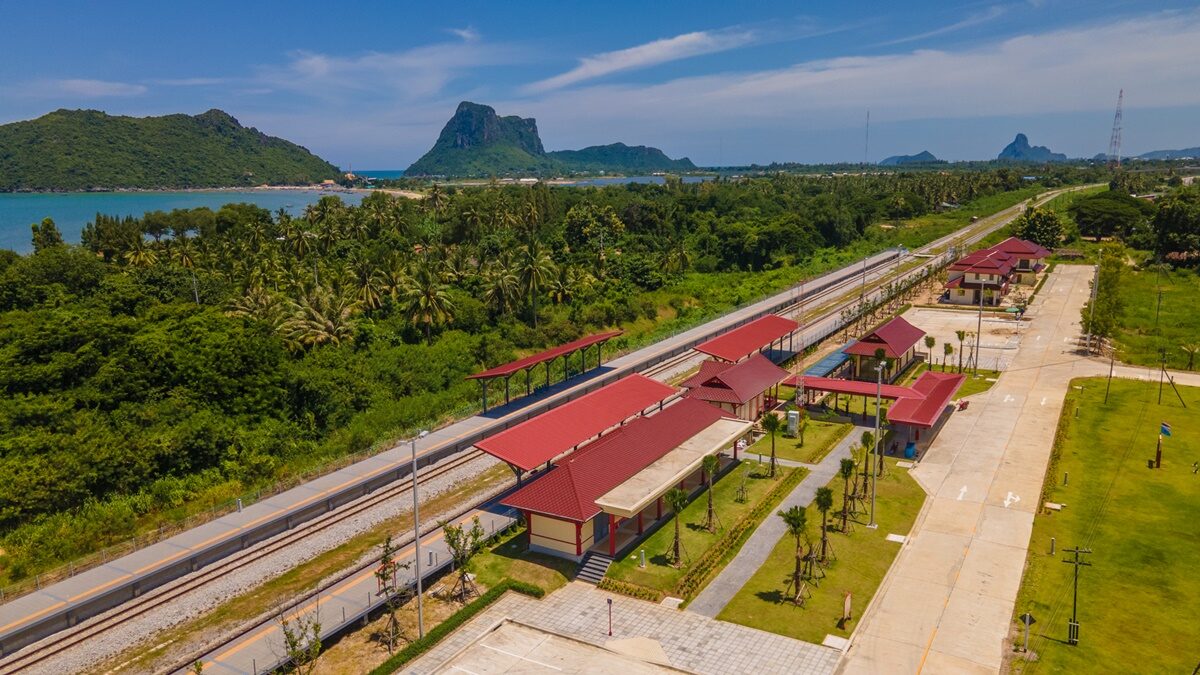 According to a report by the Royal Thai Government addressing the status of train station upgrades between the Hua Hin and Prachuap Khiri Khan segment, construction for various facilities and platforms at 13 stations is scheduled to be signed off and handed over to the SRT within October, 2022.