PRACHUAP KHIRI KHAN: September 18: PT Prachuap FC were only able to garner a single point in their 2-2 draw with BG Pathum United on Sunday night at the Tri-Cove City's Sam Ao Stadium.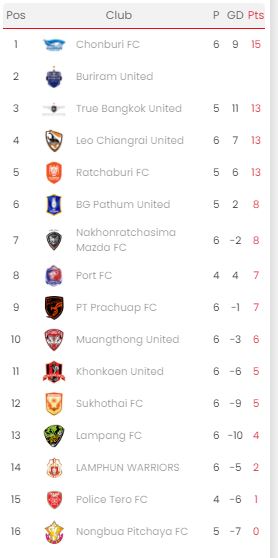 It was a tit-for-tat affair that kept the crowd of 2,420 on their toes, with all four goals of the match scored in the first half of play.
Both sides had ample opportunity goal in the opening minutes, though it would be the home side's 'Killer Wasps', or 'Southern Pride' as management markets them this season, to break the ice on the 17th mark.
When BG Pathum's defenses failed to clear a loose ball, the Wasps' Brazilian forward Samuel Rosa Concalves took advantage of the confusion, gained control and sent ball beautifully into the net to the delight of fans. .
The visitor's 'Glass Rabbits' equalized just six minutes later with a goal from 18 yards out by Thai midfielder Worachit Kanitsribumphen.
Nine minutes later, Prachuap's midfielder, Lossemy Karaboue converted a beautiful pass from teammate Apichat Demhaman, that evaded his marker and infiltrated the box, where the African-Frenchman skillfully beat the keeper to give the home team the advantage once again,
The home fans' elation was quickly doused, however, just two minutes later when Thai national star, Teerasil Dangda, equalized with a header in front of the goal, cashing out on a perfectly weighted assist from the line sent by Piriwat Sukjitthmmakul.
Siam Sport named PT Prachuap FC's towering Slovenien defender Aris Zarufivuc as man of the match
Other than five yellow cards – three to the away side and two to the hosts – and three minutes of extra time granted, neither side were to advance the victor.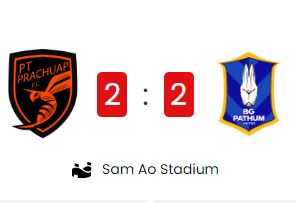 Now with two wins, a draw and three losses, and a minus one goal difference, PT Prachuap FC remain in 9th place of the 16-squad Hilus Revo Thai League (Thailand's premier league).
Their next match will be no cakewalk against 2nd placed Buriram United, who are coming off a 1-4 away victory on September 18 against Police Tero FC. Briram trail league leaders Chonburi FC by a single point.
The fixture is scheduled October 2 at Buriram's Chang Arena,
See report in Thai language, including post-match interviews with the coaches on Siam Sport.
Match highlights via AIS here.