'Faster' refurbished Japanese trains to service Hua Hin from October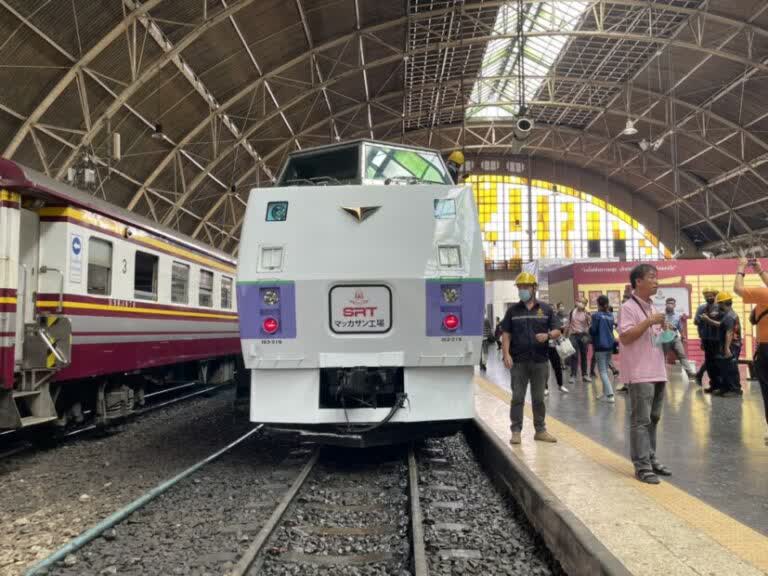 PRACHUAP KHIRI KHAN: Starting this October, getting to Hua Hin from Bangkok by train could get quicker, as the State Railway of Thailand (SRT) is planning to trial service with its recently acquired refurbished Japanese diesel trains.
Hua Hin is one of three special trial routes planned to usher tourists to and from Bangkok; the other two routes announced are Sai Yok Waterfall in Kanchanaburi province and Pa Sak Chonlasit Dam in Lopburi province.
The plans were announced September 6 by SRT governor Nirut Maneephan following successful trial runs of the donated Japanese diesel Japanese diesel powered locomotives (KIHA 183), which brought members of the press from Bangkok to neighboring Chachoengsao province, reaching speeds of up to 100 kilometers per hour.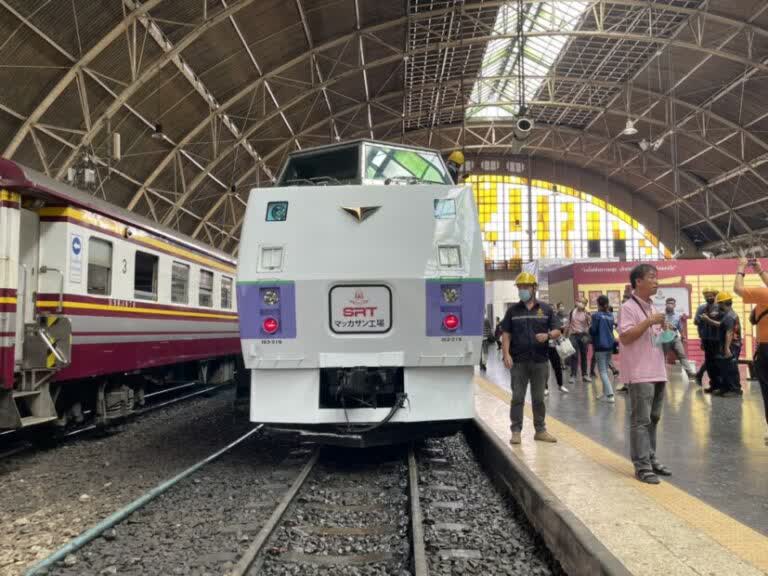 The currently fastest trains servicing Thailand railways are SRT's special sprinter trains, powered by Korean Dewu diesel engines that enable speeds of 80 to 90 kph.
The used Japanese trains, which were delivered to Thailand last December of last year, include air-conditioned high-cab models with 68 seats and the low-cab model with 54 seats.
Donated to the SRT by the Hokkaido Railway Company, the carriages of the trains are in the process of being converted to be compatible with Thailand's one-meter gauge train tracks.
In Japan, the Kiha 183 cars were operated as limited express trains in the northernmost Japan prefecture of Hokkaido.
In addition to expenses to transport the donated trains to Thailand – which cost a grand total of THB 42.5 million ($1.17 mn) or THB2.5 million per tain – SRT also reportedly spent about THB 3.4mn ($93,678) in refurbishments and repairs, which averages to THB200,000 ($5,511) per tain.
With this investment, SRT is confident that it can get an additional 15 to 20 years life out of the used trains, though more upgrades are planned before all the trains are operable.
Buying new trains of this model would reportedly have cost between THB80 to 100mn per train ($2.2 to 2.7mn per train).
Starting this October, SRT plans to utilize several of the trains to service trial three trial tourist routes with the refurbished trains – all within 300 km of the Thai capital.
These include services to Sai Yok Waterfall in Kanchanaburi Province; Pa Sak Chonlasit Dam in Lopburi and Hua Hin in Prachuap Khiri Khan province.
To make these trains more reliable for longer and more frequent trips in the future, SRT plans to make various mechanical upgrades – wheel and bearing changes, overhauling the engines, generators and upgrading air compressors, air conditioners, and electrical systems to be 220 /380 V @ 50 Hz, for example. These upgrades are expected to take two years.
No schedules or fares for the trial routes have been announced at the time of press, though if the trains are able to average 90 kph, the transit to Hua Hin could be completed in little over two hours, assuming there are no stops. Currently, the fastest trains in Thailand, with stops, take between three to four hours to reach Hua Hin.
See also related stories on National News Bureau of Thailand. Pattaya Mail, Nippon Mail, The Nation and ThanSettakij